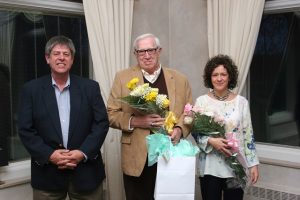 Affiliate of the Year, Gary Moore
REALTOR® of the Year, Larry Mitchell
Community Service Award, Amy Ghiloni

2016 Top Honors
REALTOR® of the Year Award-The Licking County Board of REALTORS® is pleased to announce that Larry Mitchell of HER REALTORS® has won the organization's REALTOR® of the Year Award. This prestigious award was presented to Mitchell at LCBR's Annual 2016 Awards Banquet held April 7th at Moundbuilders Country Club. This award is based on a point system that recognizes the members for their service to the LCBR Board and the Community. Mitchell has been a licensed Realtor for over 15 years. He has volunteered on numerous LCBR Committees and at several LCBR and Community events including: LCBR's Core Standards Committee, Nominating Committee, Legislative Committee, Chairperson of Long Range Planning and the Finance Committee. He attends LCBR's annual Conventions, participates in Holiday Help for local children, donates and participates in RPAC each year, as well as a member of the Newark City Planning Commission. Mitchell was awarded the President's Award in 2015. He is serving his 9th year as the Licking County Board of REALTORS® Treasurer.
Affiliate of the Year Award – Gary Moore of HouseMaster Home Inspections received the honorable award of Affiliate of the Year. Moore is a very active member of the LCBR. He has taught CE Classes, sponsored, donated to numerous LCBR events, as well as being extremely active in the community including: sponsoring and participating for many years in the LCBR's monthly Lunch Club, Awards Banquet, LCBR Conventions, Installation Dinners, RPAC Auctions, Directory and the Golf Outings. Moore continues to be a strong member of the Licking County Board of REALTORS® and is greatly appreciated.
Community Service Award – Amy Ghiloni of RE/MAX 360 received the Community Service Award. Ghiloni has volunteered countless hours giving back to the community in many ways. Ghiloni is a volunteer member of the Saint Vincent De Paul Society and is the President of Saint Vincent De Paul Conference. Ghiloni volunteers at the Look Up Center, by coordinating volunteers, donating food, helping prepare and serve meals and cleaning up afterward. She volunteered at the Kiwanis Pancake Breakfast coordinating volunteers, cleaning and serving. Ghiloni was a key volunteer for a Community Service Project "The Resting Retreat", she spent hours shoveling, digging, painting and carrying water to revitalizing the Basketball court on East Main Street. For the past several years, Ghiloni helped LCBR with Christmas shopping for the YES Club. This is her 3rd year serving on LCBR's Board of Directors.
15 REALTORS Earn 2016
Million Dollar Club Honors

The Licking County Board of REALTORS® awarded 15 REALTORS® with Million Dollar Club Honors at its annual Awards Banquet held April 7th at Moundbuilders Country Club. Any REALTORS® in good standing with the Licking County Board of REALTORS® during the time the sales transactions occurred is eligible for the awards that include: One Million Dollar Club, 5 Million, 10 Million, 20 Million 30 Million, 40 Million, 50 Million, 75 Million and the highest level of achievement 100 Million. The awards are based on sales volumes over a period of time. The Board's Million Dollar Club started in 1974 with four members, and several members have been inducted each year since its inception.
1 Million Dollar Awards
Robert Baggs Berkshire Hathaway Home Services Integrity One, REALTORS
Vanessa Beneze Century 21 Frank Frye
Janene Cosby Journey Home Real Estate
Brittany Freas Coldwell Banker King Thompson
Donna Gregory Key Realty
Paul Jackson Coldwell Banker King Thompson
Roberta Lepi Lepi & Associates Real Estate Service
Carol Marr Coldwell Banker King Thompson
Scott Walters HER REALTORS®
5 Million Dollar Awards
Johnelle Baker Coldwell Banker King Thompson
Kelly Parker HER REALTORS®
Lisa Stewart HER REALTORS®
20 Million Dollar Award
Judith Green RE/MAX 360
30 Million Dollar Award
Carol Sherman Coldwell Banker King Thompson
75 Million Dollar Award
Joyce Thorp RE/MAX Premier Choice
The Licking County Board of REALTORS® is a local Real Estate trade organization with over 350 members including REALTORS® and Affiliates. For more information contact, LCBR Executive Officer, Patty Osborn @ 740-345-2151