Licking County Board of REALTORS
2019 Honorees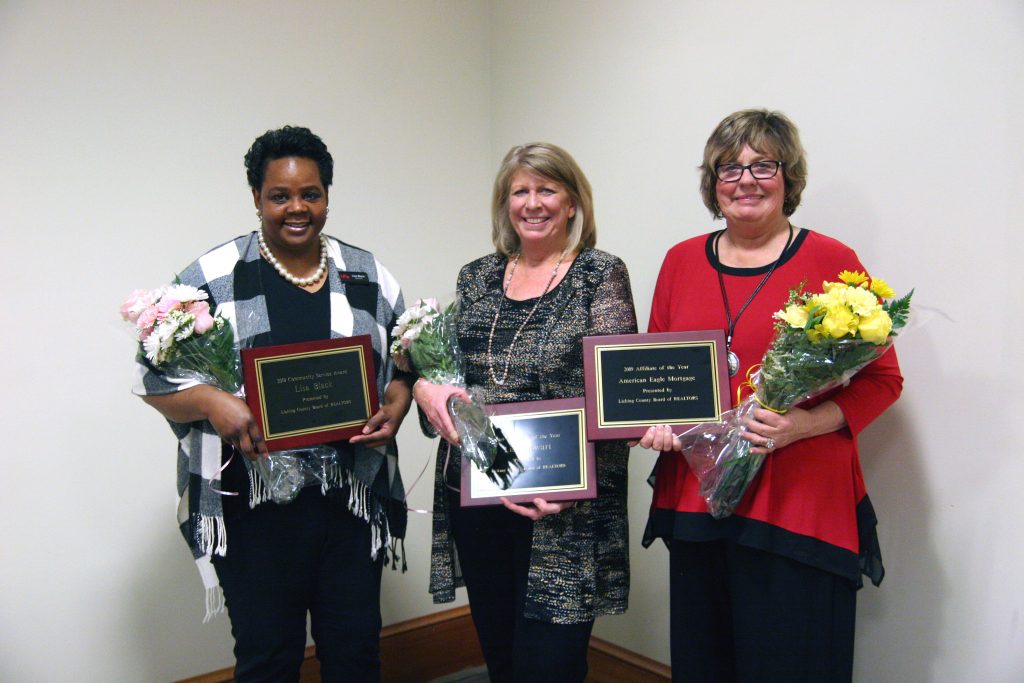 Community Service Award, Lisa Black (left) REALTOR of the Year, Lisa Stewart (middle)
Affiliate of the Year, American Eagle Mortgage accepted by Phyllis VanDyke (right)
2019 Top Honors
REALTOR® of the Year Award ~The Licking County Board of REALTORS is pleased to announce that Lisa Stewart of HER Realtors has won the organization's REALTOR® of the Year Award. This prestigious award was presented to Stewart at LCBR's Annual 2019 Awards Banquet held April 11th at Virtues Golf Club. This award is based on a point system that recognizes the members for their service to LCBR and the Community. Stewart has been a member of Licking County Board of Realtors for over 17 years and served as President of the Board in 2016. She volunteers on numerous LCBR Committees and Community events including: Supra Lock Box Committee, LCBR Legislative Committee, RPAC, Nominating Committee, By-Laws, Public Relations, Strategic Planning, Installation, MLS Representative, Bylaws, and Core Standards. Stewart is heavily involved in RPAC where she currently resides as the committee's chairperson and has donated monetarily to become a Club Member, Capital Club Member, and is now considered a Major Investor, which involves donating over one-thousand dollars towards RPAC. Stewart also donates her time towards community service where she helps with coat collections for the children, collects items for children's Christmas, and spends time at the Community Center. Stewart is a valuable part of Licking County Board of Realtors and is greatly appreciated for all her hard work and dedication.
Affiliate of the Year Award ~ American Eagle Mortgage received the honorable award of Affiliate of the Year. American Eagle Mortgage is a very active member of LCBR. It has offered CE Classes, volunteered at many events and also sponsored numerous LCBR events including LCBR's annual Golf Outing. American Eagle Mortgage has also sponsored and participated in LCBR's Awards Banquet, LCBR Conventions, Installation Dinners, RPAC Auctions, and the Directory. American Eagle Mortgage helps Licking County by volunteering for Licking County Vet Days, volunteering at the Y.E.S. Club, and Chamber of Commerce. American Eagle Mortgage has also been involved with education for LCBR at the annual Convention as well as OHFA Seminars and Real World Classes. A big thank-you to American Eagle Mortgage for all that they do for LCBR and for the Licking County Community!
Community Service Award ~ Lisa Black of HER Realtors Heather Stasel and Associates received the Community Service Award from LCBR. Black volunteers countless hours giving back to the community in many ways. She is a volunteer member of Operation Gear Up, Woven Women, Downtown Newark Association, United Way and Newark Church of the Nazarene. Black is also a Board Member of Civic Engagement Center of Licking County where she leads community outreach as well as a board member of Newark Church of the Nazarene, where she assists in the day-to-day decisions of the church operations. You will find Black serving meals at the look-up center alongside her fellow LCBR members. Black is an instrumental part in serving our great community and LCBR is proud to present her with the Community Service Award for 2019.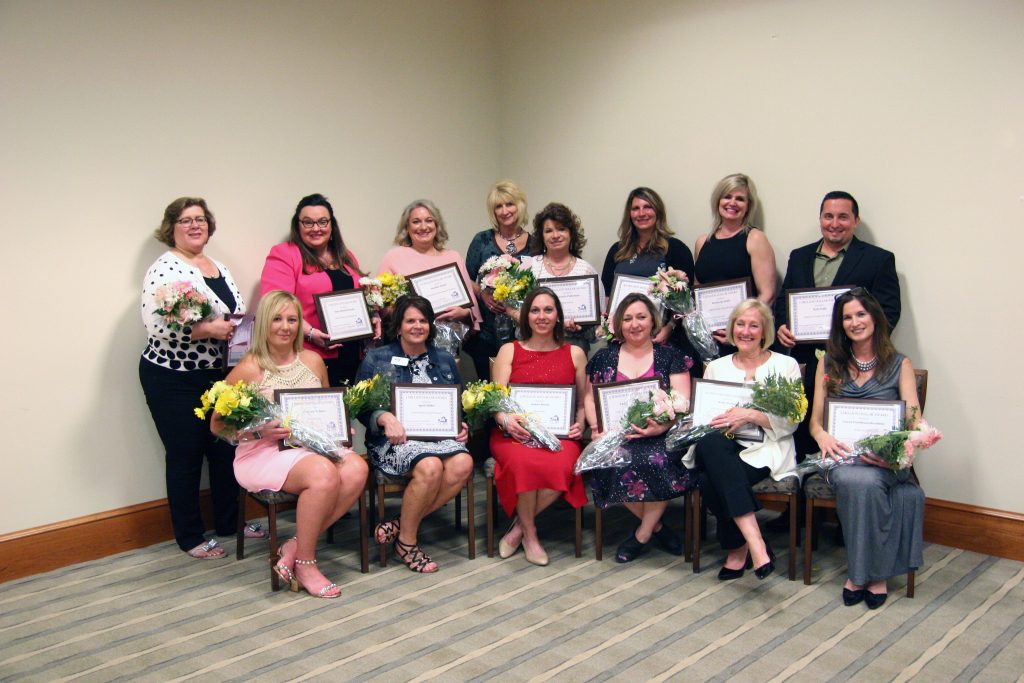 Top left to right – Vicki Baxter, Sara Marie Brenner, Heather Stasel, Bobbi Lepi, Charmin Patterson, Judith Green, Kimberly Keith, Kyle Hall.
Front left to right – Courtney Wilson, April Miller, Amber Burns, Vanessa Beneze, Kelly Parker, and Laura VonBruenchenhein.
18 REALTORS® Earn 2019 Million Dollar Club Honors
The Licking County Board of REALTORS awarded 18 REALTORS® with Million Dollar Club Honors at its annual Awards Banquet held April 11th at Virtues Golf Club. Any REALTORS® in good standing with the Licking County Board of REALTORS® during the time the sales transactions occurred is eligible for the awards that include:
One Million Dollar Club, 5 Million, 10 Million, 20 Million 30 Million, 40 Million, 50 Million, 75 Million and the highest level of achievement 100 Million. The awards are based on sales volumes over a period of time. The Board's Million Dollar Club started in 1974 with four members, and several members have been inducted each year since its inception.
1 Million Dollar Award
Sara Marie Brenner—Keller Williams Capital Partners
Kyle Hall—Century 21 Frank Frye Real Estate
Thom McKee—Coldwell Banker King Thompson
April Miller—Coldwell Banker King Thompson
Laura VonBruenchenhein—HER Realtors
Courtney Wilson—RE/MAX 360
5 Million Dollar Award
Vanessa Beneze—Century 21 Frank Frye Real Estate
Amber Burns—Kiger Realty
Kimberly Keith—Coldwell Banker King Thompson
Kishma James—Carol Goff & Associates
Jessica Winland—Coldwell Banker King Thompson
10 Million Dollar Award
Vicki Baxter—Keller Williams Greater Columbus
Heather Stasel—HER Realtors Heather Stasel & Associates
20 Million Dollar Award
Bobbi Lepi—Lepi & Associates Real Estate
Kelly Parker—HER Realtors Kelly & Company
Aaron Parks—Century 21 Frank Frye Real Estate
40 Million Dollar Award
Judith Green—RE/MAX 360
Charmin Patterson—HER Realtors
For more information, contact LCBR Executive Officer, Patty Osborn @ 740-345-2151